Karate Okotoks
Welcome to the Okotoks Meibukan Goju-Ryu Karate Dojo.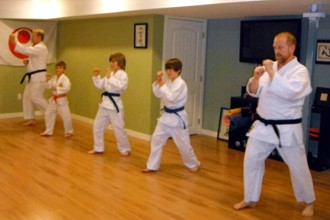 Welcome to the Okotoks Meibukan Goju-Ryu Karate Dojo. We are honored to be a member of the esteemed Worldwide Meibukan Goju-ryu Karate-do Association (IMGKA). The IMGKA is governed by Master Yagi, Meitatsu, Hanshi, 10th Dan, eldest son of the departed Grandmaster Yagi, Meitoku. Presently there are IMGKA dojos throughout the world along with a great many dojos formed here in Canada.
The instruction performed will certainly be both exciting and gratifying, as you and/or your children, accept karate-do — "the way of karate". At our Dojo, instruction is delivered in the classic art of Okinawa Meibukan Goju-ryu karate-do, and that is viewed as a way of life, and also a method of protection. The Okotoks Meibukan Goju-Ryu Karate Dojo (karate school) is fortunate to open its doors in the gorgeous location of Okotoks, AB, located approx 15 minutes south of Calgary.
We are an instructional establishment committed to teaching classic Okinawa Meibukan Goju-Ryu Karate-do. This "hard" (go) and "soft" (ju) style of karate focuses on the significance of personalized advancement and self-defense aspects of martial arts, as opposed to the athletics techniques.
We incorporate facets of more traditional martial philosophy in a non-competitive, non-sport atmosphere. Goju-Ryu is formally distinguished as one of the first 3 methods of karate and was the 1st style to be formally named. At our Dojo you will also learn self-defense tactics and kobudo (weapons). Found within this system of karate are aspects of Judo, Ju-Jitsu and Kung Fu. Circular blocking strategies, powerful punches and kicks, and the application of joint locks, arm bars and throwing methods distinguished this martial art. Additionally we emphasize correct breathing strategies to clean, strengthen and tap into our internal health.
Students augment mental willpower, self-confidence and a "Yes, I can do it!" mindset.